The magnificent Irish Wolfhound or wolfdog is the largest and tallest of all dogs. Descended from the mighty cu, a giant, rough-coated type of greyhound, the Irish Wolfhound was known in Ireland as far back as Pre-Christian times. It has now been designated as the national dog of Ireland. The cu is renowned in Irish lore as the trustworthy guardian and companion of ancient Irish kings, a ferocious dog in battle, and a tenacious hunter of wolves and large game, including the gigantic Irish elk and wild boar.
Ownership of the cu was restricted by law to Irish kings, nobles and poets. These impressive hounds were often given, seven at a time, as gifts to foreign nobility. Their collars were made of precious metals and studded with gemstones. Historic documents from the 4th Century document Irish wolfhounds in Rome where they were renowned for their bravery in arena sports. All Rome was said to have viewed them "with wonder".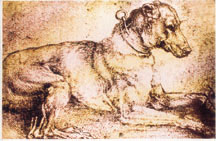 By the 19th Century, however, with the extinction of the wolf and elk in Ireland, the breed had dwindled dramatically in numbers. The potato famine of 1845 almost made it extinct. But in 1869, a Scottish officer in the British army, Captain G.A Graham, made it his life's mission to search out surviving specimens of the breed. By judicious outcrossing survivors with other breeds such as Great Danes, Scottish Deerhounds, Borzoi and the Tibetan Wolfdog, he was able to restore the breed to its former great size and type.
Although giant in stature, the Irish Wolfhound is the gentlest of dogs. He is a stoic and a pacifist by nature, adores children and is protective of his home and hearth. The word most often used to describe him is "gentle" i.e. "the gentle giant", "gentle when stroked, fierce when provoked". The minimum height for male IW's at the withers (shoulders) is 32 inches and for females, 30 inches. The minimum weight for males is 130 lbs and for females, 120 lbs. Often, they far exceed these specified minimums. Males usually average around 34 to 35 inches and 140 to 180 lbs. and bitches, 32 to 34 inches and 115 to 140 lbs
The Irish Wolfhound's coat is course and wiry, and comes in a variety of colours, ranging from pure white and wheaten, through shades of red and grey, to jet black. The coat may be solid in colour or "brindled". The hair is especially long and wiry over the eyes and under the jaw, giving the hound its characteristic bushy eyebrows and beard. And inside this giant body with the loving eyes and shaggy coat, beats the gentlest of hearts.
These gentle giants need lots of space to move around, both in and out of doors. Because they are sighthounds and were bred to chase prey, they should never be left to run free, but should be contained by proper fencing or under their owner's supervision for their own safety. They love their comfort and any prospective owner should be prepared to give up their favourite sofa to the dog. Also, they stand at kitchen counter height, and have been known to remove tasty food and morsels when one's back is turned!
Training the Irish Wolfhound is an exercise in patience since he quickly becomes bored with repetitive activities. At the same time, wolfhounds are extremely sensitive and should never be admonished harshly. Their giant hearts are easily broken.